How does myChaletBooking chalet booking system work?
Increase Your Sales And Decrease Your Workload With myChaletBooking
Pictured: Chalet Hermine, Ski Basics
Key Features of myChaletBooking
 Live availability calendar – show availability by room or chalet or both
Ability for customers to book / hold a chalet or rooms online 24/7
Ability for customers to hold & enquire about a room or chalet 24/7
Customer client area 'My Account'
Ability for customer to update booking online
Summary of bookings available at click of button
Takes payments & deposits online
Customers able to book ski passes online
Customers able to book extras such as transfers
Allows customers to manage their booking, adding notes regarding their holiday i.e. allergies etc.
Mobile friendly
Customer facing 'availability' button links to simple availability calendar
Customer facing availability calendar & payment portal integrated into the website
Backend at a glance pricing and availability
Manage group leaders/ see history of previous bookings
Easy to create calendars and seasons and set up chalets
Choose whether you book/hold or enquire only option
Automated communication with clients
Create notes on clients only visible from back end to managers etc.
In-depth reports on customers; transfers; financials; and ski passes
Simple reports on transfers & ski passes
Easy to upload chalets
Content management of general pages/ information for guests
Multiple users/ different levels of users owner/ manager
Complete history of all group leaders
Fully integrated front end, blends seamlessly into your own website with brand colours and logos
Simple front end with white background & logo – linked through customers 'availability' button
1/6 – Take bookings on your website
Seemless integration
myChaletBooking integrates perfectly with your website putting your online brochure to work by taking bookings, payments & talking to customers – without any loss of control or commissions to pay.
2/6 – Market your chalets & apartments
Complete brand control
You can promote chalets from within the booking system. Advertise availability, attach branded brochures, photos & floor plans.
3/6 – Oversee booking statuses & payments
One glance is all it takes!
With just one glance you can see exactly where each booking is in terms of payment & confirmation. You can manage each booking from one central place, send individual emails and share information with your team.
4/6 – Keep in touch & manage customer accounts
One click interaction
All standard communication tools can be set up, personalised & automatically sent when required. Accounts are instantly created giving you direct access to party members, tranfers, extras, invoices & emails.
5/6 – Pre-order ski passes and other extras
Offer more & remember less.
myChaletBooking let's you offer more… automatically prompting customers to buy ski passes & save money in the process. No need to remember who requested what, it's all recorded for you.
6/6 – Reports, payments, transfers, ski passes
Instant financial reports
Generate reports on payments; upcoming transfers & ski passes at the click of a button. Check financial performance, occupancy and see which chalets are performing best.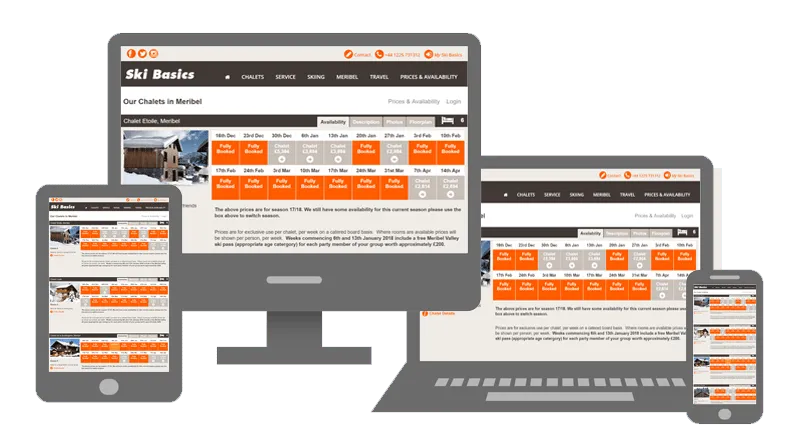 1/6 – Browse chalets on your website
Customers browse your chalets (either on your website or myChaletBooking) and can book at anytime, anyplace, anywhere. You can provide real-time availability, chalet details, photographs, descriptions & floorplans. All information can be easily refreshed at anytime.
2/6 – Book, hold or enquire
Decide how your customers book your chalets
It is easy for customers to hold a chalet (take an 'option'), giving them time to talk to party members and make the final decision. myChaletBooking will automatically reserve the chalet and help you keep in touch until the booking is confirmed. Your customers have options & you have peace of mind.
3/6 – Online payments & installments
Convenient & secure for all.
myChaletBooking provides a personal account for your customers to take payments & relevant customer information. Customers receive automated invoices, payment reminders & payment confirmations. Based in the cloud, payments can be taken at your customers convienence 24/7, whilst you are sleeping or on the slopes!
4/6 – Customers do the work for you
No risk of mistakes
Your customers have control over their booking information. From spelling their name correctly, to ensuring their transfer time is correct, it's all available from within their account. You're both in control, with the full picture & peace of mind for all.
5/6 – Automated invoices & bookings
Payments without the hassle
Customers pay securely online, (offline too) & receive invoices & booking confirmations at the appropriate times. Credit card surcharges are added automatically. You get paid the right amount at the right time, and at your customers convience.
6/6 – Pre-order, promote & upsell extras!
Ski Passes added instantly
myChaletBooking makes it easy for customers to buy extras. Complicated Ski Passes can be ordered & paid for, & organised instantaneously. You can offer transfers paid-for or special requests. It's all possible with myChaletBooking.
Increase your bookings & not your workload today
From less than £1 a day per chalet and no setup costs, get started now
Pricing & Buy Now