A Stress-Free Booking Management System Made Specifically For Chalet Owners
Increase Your Sales And Decrease Your Workload With myChaletBooking
Pictured: Chalet Pleroma, Alpine Escape
Play Video
Play Video
Finally… A chalet booking management system that's as easy to use as going down a green run!
Neil – Owner of Alpine Escape
Live Availability
Keep up-to-date with the latest bookings, cancellations and changes to your account via our back-end chalet management system.
Reports and statistics
You have access to real-time statistics on how your chalet is performing
Seamless Integration
As simple as one line of code, we can integrate your own unique business booking system seamlessly.
Book & Pay Online
Our booking system integrates seamlessly with your existing website making payments and bookings a breeze as well as giving the customer an easy, secure and trustworthy booking experience.
Easy User Experience
It's simple – A quick, 3 click solution from 'BOOK NOW' to payment details making it easy for your customers to book with you.
Keep Track – Anywhere
With our multi-device booking platform, you can keep tabs and view and manage in real time from the tip of your fingers, ANYWHERE.
Increase your bookings,
not your workload
Save time on administrative tasks
The customer completes the details of their booking on the web. This information is immediately available on your control panel. This allows you to manage the booking & share the information with your team without duplication or further admin.
Find out more
Instant financial reports
One glance is all it takes
myChaletBooking takes reservations, deposits & final payments automatically. It generates reports on payment stages, transfers & ski passes at the click of a button whilst you remain fully in control and informed.
About Features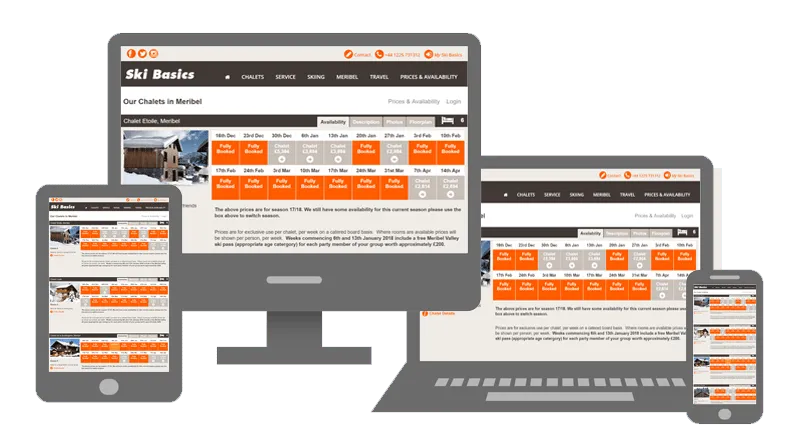 Anytime, Anyplace, Anywhere
myChaletBooking works across the web; It can be accessed anytime, anywhere. Bookings can be made, payments accepted and confirmations sent whilst you are sleeping or even on the slopes!
Learn more
 Over
£6.5 Million

 of booking payments are securely taken each year with myChaletBooking
Join Our Ever-Growing List Of Chalet Owners Already Benefiting From Our Easy And Intuitive Online Booking System "Intuitive and flexible – Superb!"

"A great app which aids our company and the clients manage their holidays easily"